Text Messaging to Smart Phones, Alphanumeric Pagers,

& AlphaCast® LED Sign Boards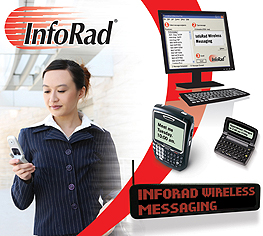 Reliable wireless messaging software solutions.
---
Provide reliable wireless text messaging to your Smart Phones, Alphanumeric Pagers, and AlphaCast® LED sign boards.

Whether you require paging software, an on-site / campus paging system, wireless remote control, or GPS Tracking, InfoRad can assist you at all levels of your system design and implementation.

The InfoRad Wireless Messaging Software Suite includes single computer, network client / server messaging software, enterprise wireless messaging integration, robust wireless monitoring, control, and alarm solutions. The suite of software applications work with all PCS carriers, SMS networks, wireless paging carriers, and on-site / campus systems.

InfoRad AlphaCast® on-site / campus systems provide local coverage and complement wide area systems.

Evaluate any of our fully functional software trial products now for 30 days with full support. InfoRad sales and technical support personnel will be pleased to assist you with any of our products and services. After purchase, our AlphaCare™ support plans are also available to extend your technical assistance beyond the initial period and provide software update release protection.

Our customer centric attitude coupled with a keen understanding of both wireless data and IT integration allows InfoRad to maintain a leadership role in the enhancement of wireless messaging technologies.

Join the millions of people today in Healthcare, Public Safety, Homeland Security, Industrial, Enterprise Communications, Application Development, and mobile office workers who have depended on InfoRad's proven reliability and performance in wireless messaging since 1984.
---
Click here to see a list of supported Paging and PCS/Cellular carriers
---
InfoRad
® Reseller opportunities

Messaging providers, IT Solution providers, Software Developers and others interested in reselling InfoRad Messaging Solutions please contact InfoRad Sales @
800-228-8998 or sales@inforad.com
---
InfoRad
®

Pro Messenger
InfoRad Pro Messenger has the InfoRad Wireless Pro feature set but simplifies setup by supporting only the InfoRad Messaging Gateway.

InfoRad Messaging Gateway provides for a single Messaging Service for all wireless messaging providers - cell phones, pagers, & wireless enabled devices.

Contact InfoRad Sales today for your FREE 1000 message 30-day evaluation of InfoRad Messaging Gateway. 800.228.8998 (216.531.1314) or sales@inforad.com
InfoRad Wireless Pro Messenger
is a powerful, full-featured messaging platform. InfoRad Wireless Pro Messenger contains all the features of the InfoRad Wireless Pro product: expanded Groups, expanded Pre-defined (Preprogrammed) Messages, expanded Scheduled Messages, Spell Checker (check and correct messages before sending) and the Advanced Scheduler - (schedule recurring daily, weekly, monthly messages/reminders).
Secure Messaging via InfoRad Messaging Gateway. AlphaCare™ support services available.
---
InfoRad® v10.4 Release
The InfoRad 'X.4' Suite
of Text Messaging Software

InfoRad "X.4" Suite of text messaging products range from the entry level InfoRad eText to the powerful full-featured AlphaPage® First Responder, plus Enterprise network Client/Server products and Watch-IT monitoring applications.
Text Messaging to cell phones supported:
via InfoRad Messaging Gateway (NEW v10.4)
via Enterprise Messaging services
via 'Email-to-Text' Messaging
Click here to view v10.4 features / enhancements

Click here for more information on InfoRad's reliable messaging products
Click here for product
Feature Comparison List
---
InfoRad
®
Wireless Web
InfoRad announces the InfoRad Wireless Web Messaging Client.
The browser-based messaging client adds additional capability and versatility to your messaging environment.

The messaging client is easy to use and provides seamless messaging to all your wireless devices through the proven InfoRad Wireless Enterprise SV 10 or Watch-IT ASCII SV messaging gateway.

Communication with your wireless devices has never been easier and more reliable.
For a quick review of the InfoRad
®
Wireless Web Messaging Client view the PDF file.
See product documentation for installation requirements
---
InfoRad®
Messaging Gateway
Status:
Operational
---
InfoRad®
Messaging Gateways
Email-Connect™
SNPP-Connect™
TAP-Connect™


InfoRad
®
Messaging Gateways: InfoRad

®

Email-Connect

™,

InfoRad

®

SNPP-Connect
™,
and InfoRad

®

TAP-Connect
™
are powerful front end software solutions that will process incoming messages from legacy messaging technology while maintaining a high level of control, security, and reliability over your enterprise messaging network.

The new gateways may be used alone or in combination. The gateways process incoming legacy protocols (email (SMTP), SNPP, TAP) and forwards via industry standard wireless messaging protocols allowing you to uniformly message today's smart-phones and wireless enabled devices.

All 3 gateways utilize InfoRad Wireless Enterprise SV-10 or InfoRad Watch-IT ASCII SV as their enterprise message processing engine. All InfoRad V10.4 software also provides additional messaging connectivity via the InfoRad Messaging Gateway service. There is no need to know the service provider. InfoRad Messaging Gateway supports messaging to any pager, cell phone, smart-phone, or wireless enabled devices to any service provider.


Click on the links for more information:
Email-Connect Wireless Gateway
Email-Connect product documentation.

TAP-Connect Wireless Gateway
TAP-Connect product documentation.

SNPP-Connect Wireless Gateway
SNPP-Connect product documentation.

---

Additional products and services:

InfoRad® Emergency Communication Services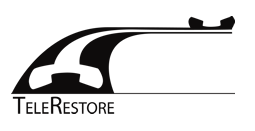 TeleRestore™ is a service that rapidly and intelligently restores incoming phone service due to any outage. Complete control of all incoming phone calls can be accomplished in minutes.
No new hardware, software or change of carriers is required. TeleRestore also provides many additional emergency communications tools and 7x24 support.
TeleRestore - We keep you communicating.
Click Here for more information on TeleRestore Services
---
InfoRad® AlphaCast®
Announcing InfoRad AlphaCast®
Emergency Alerting Systems and Software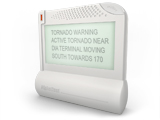 Products include InfoRad AlphaCast
as well as the advanced AlphaCast GIS
Emergency Alerting software.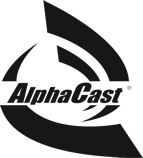 Click Here for more information on the InfoRad AlphaCast Emergency Alerting Systems
---
Hardware Products
Wireless LED Signs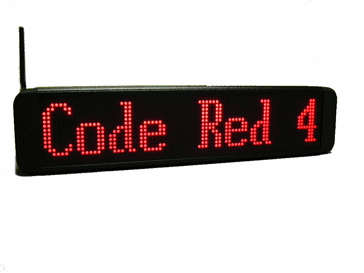 See more Wireless Remote Control and On-Site Paging products